U životopisnom Jasikovcu na obroncima planine Majevice, u Bosni i Hercegovini, u domaćinstvu porodice Bećić već decenijama se peče jabukov pekmez.
Vrijedni domaćin Ibrahim Bećić je u vrijeme posjete ekipe Anadolije pekao 14 ovogodišnju "turu" i kaže da će ih biti još jer je, za razliku od prošlih, ova godina itekako rodna.
Nekada je stupa u njegovoj avliji radila dan-noć. Ibrahimovi roditelji, amidže i rođaci smjenjivali su se za stupom, vrijedno radeći i proizvodeći pekmez. Danas je proizvodnja olakšana, pa on pod nadzorom majke Izete sam sve radi. Dok u tavulji miješa jabukov sok, Ibrahim priča kako je bit proizvodnje jabukovog pekmeza upravo u samom kuhanju.
"Pekmez kada se kuha, dobro je, najoptimalnije je, da se kuha samo jedna tavulja u koju se istrese 60 litara i dobiješ čisti pekmez", objašnjava Ibrahim Bećić.
Jabuka koju koristi za pečenje pekmeza nije prskana. Sve je iz prirode i zbog toga jabukov pekmez često nazivaju i prirodna infuzija u podrinjskim i majevičkim krajevima gdje se pekmez tradicionalno peče.
"Jabuka, nije prskana, sve što dodajemo nekad je malo umjetnog ili stajskog gnojiva oko stabla. Nema prskanja ni u beharu, ni u plodu, ni u čemu. Sto posto prirodno, a što se tiče samog pekmeza samo je sok od cijeđenih jabuka i nema dodatka ni zrna šećera, sve je prirodno", priča Bećić.
Uspio je ispeći 120 kilograma, ali planira peći pekmez i narednih dana. Pekmez peče za sebe, za poklone, a dobro je i kada nešto završi u prodaji.
"Ovaj pekmez koji pečemo je od jabuke samoniklice i negdje je zovu Srebreničanka. Izuzetno je dobar za podizanje imuniteta, za jačanje krvne slike i ja ga volim uvijek jesti. Najviše ga volim jesti kada ga stavim u tanjir, pa ubacim kajmaka i uzmem vruće pogače. To je nešto najslađe", kroz smijeh govori Ibrahim.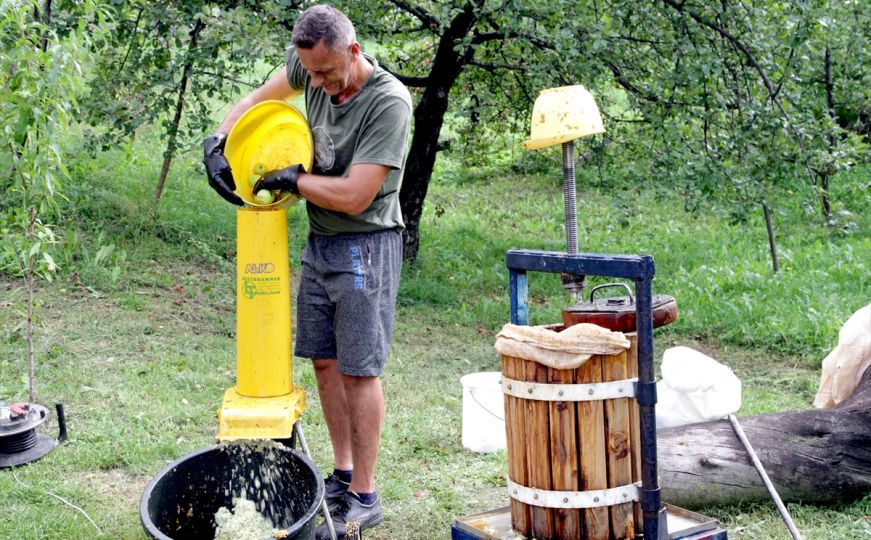 Od vrijednog rada može se pristojno živjeti, imati neovisno domaćinstvo od cijena u prodavnicama, ali najveći benefit je što su proizvodi neprskani i zdravi. Pored pečenja pekmeza Bećić kaže kako mu je lakše reći čime se ne bavi. U avliji ima košnice, a med proizvodi od 1997. godine. Slučajno je nabavio dvije košnice, zavolio taj posao, i trenutno ima 30-ak košnica.
"Ovom medu i ovom pekmezu nema roka trajanja. Kako stoje mogu biti samo bolji. Ne gube ništa na kvaliteti to je sto posto", kaže Ibrahim Bećić iz Jasikovca na području Općine Teočak.
Proizvodnja zdrave hrane, smatra on, ne bi trebala imati alternativu u Bosni i Hercegovini. Međutim izostaje organizacija, sistem i podrška. Pred hladnu zimu jedna kašika jabukovog pekmeza je prijeko potrebna organizmu.
Radio Bet / Izvor: Radio Sarajevo
Komentari
komentara